We started out the month of April with a trip to the MINI of Tucson for our monthly coffee and munchkins fix on April 4th.
Our MINIs got the munchies on evening of April 9th and were feeling mucho bello! So, it was off to the Italian restaurant Mama's Famous Pizza and Heros. We sat outside, ate
some pizza (especially large pizzas!), chatted with each other, and enjoyed the weather.
The very next day, on the 10th, was the 35th Annual Unique Little Car Show hosted by the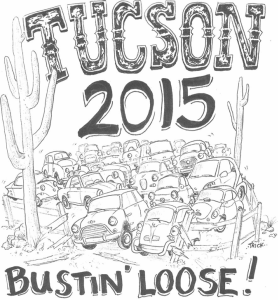 Dynamic Mini Collective. But it wasn't just MINIs!! There were all sorts of little cars, some with four wheels some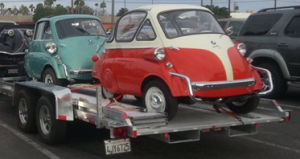 with three, all unique. It was a great opportunity to share and view an assortment of vintage Micro and Mini cars.  Check out our DMC FB page for even more pictures!
The day after the car show, some of our M.A.D.M.E.N. met up with the Desert Rat Pack (DRP) to drive the wonderfully twisty road snaking through the Salt River Canyon. They drove into Show Low to spend the day there and then drive back through the canyon home.
What goes great with MINIs? Ostriches of course! Our last Saturday breakfast was on April 25th at the Iron Skillet in Eloy. Why so far away from Tucson? Just to drive south from there to see the ostriches at Rooster Cogburn Ostrich Ranch. We bought the combo pack which included a monster truck ride, food for the animals (deer, goats, ducks, lorikeets) and an ostrich fishing opportunity.
For more information on any event that the M.A.D.M.E.N. of Tucson have planned please email us.  madmenoftucson@gmail.com and check out the on line calendar. Happy motoring and don't forget to wave!
M.A.D.M.E.N. Odometer-Where we went in March
It was March Madness with the M.A.D.M.E.N.!
We started out March with dinner at the Happy Rooster on the 12th. The restaurant opened just for us last time. Not so this time! It turns out they've extended their hours and now serve dinner. There were 24 of us present and our co-chair Marsha Sue Carter encouraged everyone to stand up and introduce ourselves. We had a few new people and one out-of-town MINI owner who joined us.
In the middle of March, a small group of us took a MINI vacation in Las Vegas.  Yes, yes, yes, we knew AMVIV is coming up in May! We still wanted to go and enjoy the sights and sounds of Las Vegas. On the 19th, four cars motored, in the rain, from Tucson to Winkleman where we picked up two more cars and continued on. We stopped for a late lunch on Historic Route 66 in Kingman, Arizona, for some tasty treats at Mr. D'z Route "66" Diner.
Hoover Dam was our next stop and all those dam jokes just didn't stop. We marveled at the dam construction, noticed and commented on the low level of the dam lake, made some new dam friends, and took a bunch of dam pictures. We did not take the dam tour, some of us had done that previously and we were now ready to get to Las Vegas.
We rolled into Las Vegas in the late afternoon and two cars had to immediately find a car wash. That night, AJ and Chris went to the Shark Reef at Mandalay Bay while the rest of us (Steve and Kim Campbell, Jesse O'Dell, Jim Couper, Erin Savov, and Jodi Lynn Strait) went to Juan's Flaming Fajitas where we had a great waitress and excellent food. It was here that we got to meet Jesse's sister, Erin, and she instantly became an honorary M.A.D.M.E.N. for the weekend!
Friday was a busy day for us. First we visited Count's Kustoms. Bummer, no Danny or Roli or Horny Mike. Horny Mike was spotted but he was on his way out of the shop with his Horny Mike bus.
Then it was off to Rick Dale's Restorations. If you bought a t-shirt, you got a free tour of the shop in the back. We had enough tickets for everyone! Our tour guide was very nice young man named Chris and he showed us around with lots of interesting tidbits about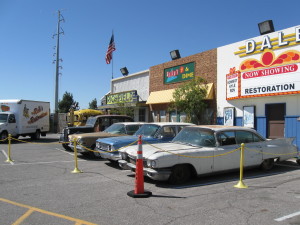 what part of the restoration processes each of the work areas were dedicated to. We got to see Rick, his son Tyler, and Brettly who were all on the premises, this being a regular workday.
Next we hit up the Carroll Shelby Heritage Museum. For those of you who are both MINI and Mustang fans, this is the place to be! Souped up Mustangs, Shelby race cars and the original and first Shelby car were all on site. Their production floor was huge and it was amazing how many people had sent their cars in for Shelby customization.
Dinner on Friday night was at the Hofbrauhaus on Paradise Road. It was loud (the oom-pah band was definitely enthusiastic) and it was a bit warm inside but the German food was delicious. After dinner, we hung around the parking lot to chat. About what? Our cars of course! Then it was down to the Las Vegas Strip to walk around a bit and check out the underground gondolas at the Venetian.
Saturday, the 21st, was a do-whatever-you-want day. Some of us went shopping for tear-drop trailers, some wandered into Gilley's to watch the Arizona game, some went clothes shopping, some went to the Springs Preserves for lunch. While AJ and Chris went to see the Chris Angel show, the rest of us met up again for dinner at the Chicago Brewery for some really good pizza. Overall, a great two days in Las Vegas. Home on Sunday!
March Madness didn't stop there. Our last Saturday breakfast was on the 28th and we had 28 people join us at Chaffin's Restaurant on Broadway. Someone play that 28 number in the lottery! Service was great and the food portions were huge; gigantic burro anyone?
After that, some of us motored over the Franklin Auto Museum (http://www.franklinmuseum.org) nestled on five acres right in the middle of developed Tucson. Our tour guide was the curator of the museum and he obviously loves what he does from restoring cars, to purchasing them, to grounds maintenance, to talking about all the cars including the mechanics and all the truly unique design features of each car.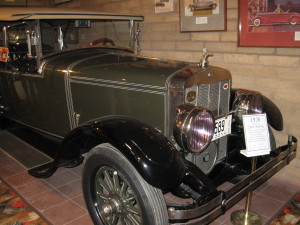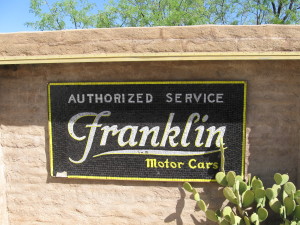 Check out the Franklin album on our DMC Facebook page for more pictures.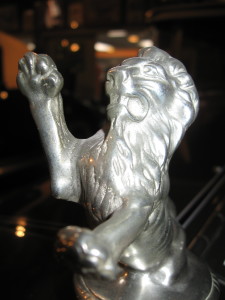 See you in April! For more information on any event that the M.A.D.M.E.N. of Tucson have planned please email us.  madmenoftucson@gmail.com and check out the on line calendar. Happy motoring and don't forget to wave!
M.A.D.M.E.N. Odometer-Where we went in February
Get along little doggie! La Fiesta de los Vaqueros (Tucson Rodeo) came to town in February.
In the spirit of the cowboy, the M.A.D.M.E.N. rustled up some chuck wagon worthy grub at Cattletown Restaurant for our 2nd Thursday dinner on the 12th. We had 25 members turn out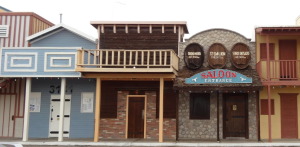 for steaks and burgers and other tasty treats. After dinner, we went round the table to introduce ourselves to some new and recently joined (only had their MINI 6 days before they joined!) MiNi peeps. One of our newest MINIs, Boris, was introduced to others by his owner Jim Couper.
Later in the month, threatening skies didn't keep our MiNis or members away from the 4 Seasons Restaurant on Miracle Mile just off of I10. Three of our members brought their cars pulling teardrop trailers. We had 27 people for breakfast and enjoyed some of the fine dishes on their American Breakfast menu. One of the restaurant employees was a MINI admirer and was thrilled to see the range of cars in the parking lot. And, there was an Elvis sighting!
After breakfast, we had a quick driver's meeting before motoring up to visit Ernie's Dwarf Car Museum on Half Moon Rd. in Maricopa, AZ.  Ernie (who was at a car show) makes each of his
dwarf cars (and one dwarf boat) by hand! One is even made out of a refrigerator. His sons were kind enough to let us look around and crawl in and out of the cars. We thought our MiNis were small, nope, they're huge compared to some of those in the Museum.
Check out the "Dwarf Car 2015″ album on the DMC's Facebook page for more pictures!
For more information on any event that the M.A.D.M.E.N. of Tucson have planned please email us.  madmenoftucson@gmail.com and check out the on line calendar.
M.A.D.M.E.N. Odometer-Where we went in January
Mini and Munchkins, hosted by Mini of Tucson, was the first stop for our Minis in January on the 3rd.  The dealership was kind enough to lend us their conference room and after sipping coffee and munching donuts, we crammed into the back for our annual planning meeting. Lots of great ideas for places to go and places to eat were suggested and our schedule for the year began to fill up. Check out our calendar for upcoming events!
After all the rich holiday food, what better place to visit than May's Counter where they serve yummy stick-to-your -ribs food like chicken and waffles, bacon Bloody Marys, flatiron steak, and catfish. We had 16 people join us for dinner despite mother nature throwing rain and chilly weather at us at the beginning of the month. Kathy Antonelli proposed a toast to honor Jan Couper who passed away at the end of December. Jan had an infectious smile, always a kind word, and she will be dearly missed.
Following this month's wet theme: It was raining, it was pouring, the old man was snoring! But that didn't keep 25 of us from rowing our MINIs to the Sunny Daze Cafe (ironic, huh?) for our Last Saturday breakfast on a really soggy morning. The food was good and service fine. We were supposed to go to the car show in Tubac that afternoon, but after a quick poll, we decided to all go our separate ways for the day. Pontoons were attached and we floated off in different directions…
Here's hoping the rain brings lots of wildflowers but stays away for our February activities!
For more information on any event that the M.A.D.M.E.N. of Tucson have planned please email us.  madmenoftucson@gmail.com and check out the on line calendar.
M.A.D.M.E.N. Odometer-Where we went in December
The annual Dynamic MiNi Collective holiday party was at the U-Like Buffet located on River and Oracle. Cynthia Wallin wore her festive hat that has lots of good stories behind it (you'll have to ask her about it next year), Patty Small brought home-made Mini themed ornaments to share with everyone and we had our gift exchange. Some of the interesting items making the rounds were the moose mug from Christmas Vacation, an Elvis guitar filled with popcorn, a kit to Rudolph your car, a couple  of Mini keychains, a bag designed by Patty, a Mini beret, bamboo bowls, and Santa having a potty.
After all the Christmas, Hanukkah, Kwanza and Festivus celebrations were over and done with we had to have breakfast, right? So our last Saturday breakfast was at Beyond Bread at Ina and Oracle. We had a turnout of 19 and enjoyed some good breakfast sandwiches and omelets and plenty of coffee to take the chill off.  We're Tucsonans, it's cold for us!
What's in store for next year?  Grab your calendars and list of ideas for MADMEN 2015 adventures. Where do you want to eat? Where do you want to motor to? Where haven't you been to or want to go back again? Saturday January 3, 2015 (yes, 2015 is coming at you like a freight train) at 10:30 AM we'll be meeting at MINI of Tucson in their conference room. That's right after MINIS and Munchkins. Coffee, doughnuts, conversation and we'll let the ideas flow.
For more information on any event that the M.A.D.M.E.N. of Tucson have planned please email us.  madmenoftucson@gmail.com and check out the on line calendar.
M.A.D.M.E.N. Odometer-Where we went in November
Surprise, Jason's Deli doesn't actually have Jason, the masked terror from the movies, running around but they do have tasty food, quick service and make-your-own sundaes! There were 24 people in total so we took up quite a bit of space right by the front window. The M.A.D.M.E.N. welcomed two brandy-new members, Sheila and Maylen Wood while also welcoming back Bill and Cynthia Wallin who stopped in to say hello to us before they were off to enjoy their Alaskan cruise. Our youngest member, Lilly, didn't try anything on the Jason's menu but she really enjoyed her mashed peas. Yummy!
Our last Saturday lunch was on the 29th and we motored way out west to Cindy Lou II's Cafe.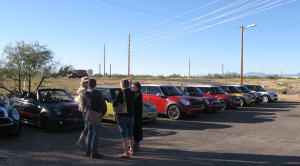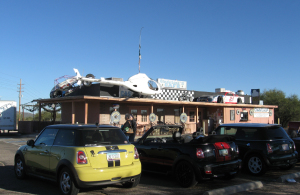 Good food and quick service got us out the door so that 12 of the 15 cars (+ Anne's Miata) could make the climb the mountain up to the top of Kitt Peak.
The Minis and their peeps enjoyed the sunshine, brisk air and gorgeous vistas, both on the way up and at the top. Spoiler Alert: Historical fact is imminent. According to a tour guide, the original surveyor George Roskruge (in the late 1800s) named it after his sister, Philippa Kitt. Among the multitude of telescopes, there were three professional telescopes open to the public and one smaller, amateur solar telescope just around the corner which provided views of the sun and solar flares.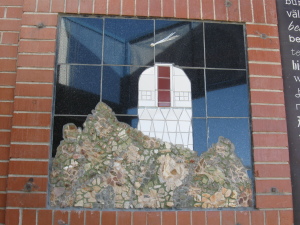 For more information on any event that the M.A.D.M.E.N. of Tucson have planned please email us.  madmenoftucson@gmail.com and check out the on line calendar.