Our Club Events area on the Forum  contains upcoming event details and DMC members can also check out the Events area on our Members Facebook Page.
Jul
14
Sat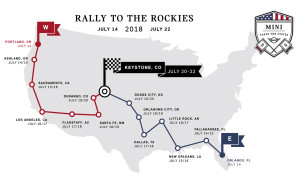 This event is put on by MINIUSA
Dates announced 9/5/17.
Route Announced 1/5/18.
Hub & Spoke style event this year with a starting point on each coast, meeting in Keystone, Colorado.
Sign up for the mailing list and get the latest event information here: