M.A.D.M.E.N. Odometer-Where we went in February
Get along little doggie! La Fiesta de los Vaqueros (Tucson Rodeo) came to town in February.
In the spirit of the cowboy, the M.A.D.M.E.N. rustled up some chuck wagon worthy grub at Cattletown Restaurant for our 2nd Thursday dinner on the 12th. We had 25 members turn out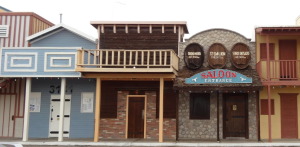 for steaks and burgers and other tasty treats. After dinner, we went round the table to introduce ourselves to some new and recently joined (only had their MINI 6 days before they joined!) MiNi peeps. One of our newest MINIs, Boris, was introduced to others by his owner Jim Couper.
Later in the month, threatening skies didn't keep our MiNis or members away from the 4 Seasons Restaurant on Miracle Mile just off of I10. Three of our members brought their cars pulling teardrop trailers. We had 27 people for breakfast and enjoyed some of the fine dishes on their American Breakfast menu. One of the restaurant employees was a MINI admirer and was thrilled to see the range of cars in the parking lot. And, there was an Elvis sighting!
After breakfast, we had a quick driver's meeting before motoring up to visit Ernie's Dwarf Car Museum on Half Moon Rd. in Maricopa, AZ.  Ernie (who was at a car show) makes each of his
dwarf cars (and one dwarf boat) by hand! One is even made out of a refrigerator. His sons were kind enough to let us look around and crawl in and out of the cars. We thought our MiNis were small, nope, they're huge compared to some of those in the Museum.
Check out the "Dwarf Car 2015″ album on the DMC's Facebook page for more pictures!
For more information on any event that the M.A.D.M.E.N. of Tucson have planned please email us.  madmenoftucson@gmail.com and check out the on line calendar.