March was a pretty slow month for the DMC/DRP because everyone was getting ready & amped up for Southwest MINI Fest. We did kick off the month with a pie and all-you-can-eat BBQ meet up at Rock Springs Cafe. The weather was questionable but the food was delicious and the company was great as always.
Cars and Coffee was again hosted by MINI of Tempe and we met some new MINI friends as well as many old. This was followed up by a pot-luck style BBQ at a member's house. Perfect weather and good times.
Sunday Sweets migrated to the West side at the Cheesecake Factory in Peoria. Spring training made everything pretty busy but it was delicious! The month ended with SWMF, over 250 people from 16 states came together in Tempe to mingle over MINIs. Pictures can be found at www.SWMiniFest.com/photo-sharing/. Many DRP members were in attendance and the event had a great response.
DRP – Late Dec/Jan Cliffs
A tad bit late posting the monthly summary, it's been a busy kick-off to the year!
December was pretty awesome.
We kicked it off with out usual Sunday Cars & Coffee at MINI of Tempe which is always a great turn out – always nice to see some new faces there too
Ms Katie Blaker was kind enough to get us a sweet deal at Papa Murphy's in Peoria for their grand opening – MINIs at Murphys. We brought out the MINI crew and they supplied us with many pizzas which we baked up at Mark Ryan/Teresa Flores' home after mingling with Santa for a while. Sunday Sweets was at Rita's and we pretty much took over their entire inside area. Even in the December cold, their gelato is delicious. The Holiday Lights Run was great, not too many people got lost haha. There were some very festive homes and the end point was a MINI owner who eats, drinks and sleeps Christmas apparently. George  Rocheleau, Tate Lickfeldt and William Solan won prizes for the best decorated cars and a good time was had by all. The month ended with our usual Pavilions Car Show, had some Dee and Larry popped in from Vegas and there were some new folks as well. It was a pretty legit month.
Pictures by George Rocheleau, Desert Magazine, me
January also kicked off with Cars & Coffee at the dealership, some of us were a little ruined from Rocky Horror the night before but it was a wonderful morning. Sunday Sweets turned into a crock pot exchange at Krispy Kreme, we were mildly overtaken by Mustangs but it was a nice evening. The Pavilions got a little crazy because Barrett Jackson was in town so the MINI crew was somewhat over-shadowed. Some very cool cars were there and cruising around all week though, very good scenery. The January Pajama Jam was pretty fun, most everyone was rocking their PJs and we went on a very nice drive to Fountain Hills, the weather was perfect and we ended it with bagels and the DRP serious business meeting at the Fountain Park. Karting night at Octane had a small but effective turn out and there was some good racing going on out there. Sean Grimes and Richard Newby always rock it.
Pictures by Robert Rohr, Tom Puleo, William Solan and George Rocheleau – not in that order
Upcoming events in Feb:
Pavilions car show this Saturday 2/15
Cars & Coffee @ MINI N Scottsdale 2/15
White Roof Radio Episode 500@ EuroTechs 2/22
AZ History Run 2/23
IFN @ Rigatony's 2/26
Cars & Coffee @ MINI of Tempe 3/2
April Tracks
Greetings Motorists,
Spring is here and probably lowered by now. March took us out along the Copper Corridor and gave us a wonderful scenic view of the mining regions.
April Events:
April 7th – Cars & Coffee – MINI of Tempe:
Come on out, chat with the dealers, owners, or just come for the free donuts.
April 14th – Second Sunday Sweets – Paletas Betty, Chandler, AZ:
"Paletas Betty is a paleteria specializing in handmade mexican fruit and cream pops. Locally made, the paletas are crafted in small batches using the freshest and finest ingredients we can procure."
April 20th – Third Saturday Car Show (Scottsdale Pavilions):
Join us at Arizona's longest running weekly car show. We are usually parked in first and second rows as you enter the parking area. With the nice weather becoming standard, arrivals will begin earlier, around 3-4 pm.
April 24th – IFN – Dave & Buster's, Tempe, AZ:
Because it's about time we were allowed to play with our food.
April 27th – Highway Cleanup:
It's that time again, the 6th Annual DMC Highway Cleanup. For the uninitiated, we travel up near Payson in the morning and clean up our section of AZ-87. Comfortable, safe footwear is recommended. Lunch at Long Valley Cafe.
As always, stay safe, check your oil, maintain tire pressure, and above all.. Motor on!
The MADMEN Odometer – December 2012
December didn't have us on the road as much as a group as some months, but we still had lots of smiles. We tried to take it easy this month to give everybody more time to spend with family and all of the holiday plans and activities that many of us have with family and work.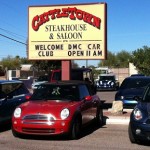 On December 8th the Annual DMC Holiday Party had the Desert Rat Pack join us in Tucson at Cattletown Steakhouse and Saloon where about 35 DMC members gathered and swapped stories and gifts. We had a special room set aside for our group and the parking lot was filled with MiNis while the room was filled with "family and friends". We had the traditional gift exchange in which many great items switched hands and fun was had by all. The DMC provided some door prizes ranging from T-shirts to Tools, Signs and more. After the party many of our members headed over to the 4th Avenue Winter Street Fair for shopping and entertainment.
Your Co-Chairs took an opportunity to really put on the miles for both personal business, pleasure, and fact finding for some future runs we are planning. Lets just say that 4 adults, around 3,500 miles in a Countryman with a rooftop luggage box is an interesting combination. We gathered information for our runs to Roswell and Memphis, as well as future runs in the greater Southwest.
Our Last Saturday Breakfast was not only the last Saturday of the month, but the last Saturday of 2012. On December 29th 26 MADMEN met at Beyond Bread on Oracle Road and nearly took up half the seating area. We had old friends and new ones join us for a great time of visiting and eating. After this many of us went to Marsha and Dave's house to discuss plans for the trip in February to Roswell NM. This trip is dubbed A MINI Weekend Abduction-Roswell. To make a full day of it we then went to see an Elvis Presley tribute artist perform, that should help us get in the right frame of mind for our April roadtrip to Memphis. MME on the BBC!
Here are some of the upcoming events planned for January and the very first week of February, we hope to see you soon.
Thursday January 10, 6pm– My MINI Has the Munchies for some Southern down home cookin' so we're heading to Mays Counter Chicken and Waffles. Located at 2945 East Speedway in Tucson chef Aaron May serves up chicken and waffles (natch), steak, catfish, sandwiches, tater tots, shrimp and grits, pickle chips and much more. This is some seriously good food and I am aleady dreaming about the shrimp and grits.
Saturday January 26, 8am– Last Saturday of the Month Breakfast will be at Millie's Pancake Haus at 6530 E. Tanque Verde. Pancakes are a specialty but the menu also includes waffles, French toast, omelettes and more.
The decor is Old World Grandma style or Brothers Grimm fairy-tale-cottage, kinda kitschy but comforting.
Saturday Feb 2 is the Santa Cruz Valley Car Nuts show in Tubac. The proceeds from the car show go to scholarships and a graduation car for Sahuarita High School.
The car show starts at 10am and there will be time to stroll through Tubac as well. Lunch plans are still being discussed and The Velvet Elvis in Patagonia has been mentioned.
Our usual meeting place for the drive to Tubac is the Home Depot parking lot at I-19 and Irvington Road. Exact time for departure will follow.
Congratulations to our NEW DRP co-chairs!
Please welcome Michael BC and Becky G as our new DRP co-chairs for 2012-2013. There will be some fun and exciting events coming out of this next year with these two taking the lead. They are both extremely energetic about MINIs and the Club of which I think that energy will be well balanced against each other for an amazing year!
DMC GoBadge now available!
You can order your GoBadge today, available after 9/27. There is a sale going on right now and they are only $6.99 instead of $10.99. Plus, as a DMC member you can get 10% off your order with the code ARIZONADMC. Order Here >