M.A.D.M.E.N. Odometer-Where we went in November
Surprise, Jason's Deli doesn't actually have Jason, the masked terror from the movies, running around but they do have tasty food, quick service and make-your-own sundaes! There were 24 people in total so we took up quite a bit of space right by the front window. The M.A.D.M.E.N. welcomed two brandy-new members, Sheila and Maylen Wood while also welcoming back Bill and Cynthia Wallin who stopped in to say hello to us before they were off to enjoy their Alaskan cruise. Our youngest member, Lilly, didn't try anything on the Jason's menu but she really enjoyed her mashed peas. Yummy!
Our last Saturday lunch was on the 29th and we motored way out west to Cindy Lou II's Cafe.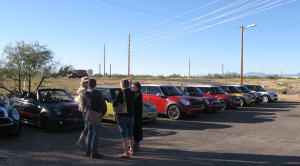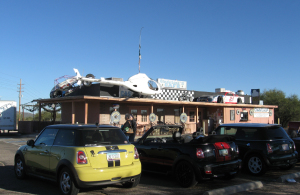 Good food and quick service got us out the door so that 12 of the 15 cars (+ Anne's Miata) could make the climb the mountain up to the top of Kitt Peak.
The Minis and their peeps enjoyed the sunshine, brisk air and gorgeous vistas, both on the way up and at the top. Spoiler Alert: Historical fact is imminent. According to a tour guide, the original surveyor George Roskruge (in the late 1800s) named it after his sister, Philippa Kitt. Among the multitude of telescopes, there were three professional telescopes open to the public and one smaller, amateur solar telescope just around the corner which provided views of the sun and solar flares.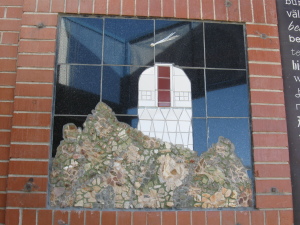 For more information on any event that the M.A.D.M.E.N. of Tucson have planned please email us.  madmenoftucson@gmail.com and check out the on line calendar.