M.A.D.M.E.N. Odometer-Where we went in June
Since we enjoyed our breakfast earlier this year at the 4 Seasons Restaurant and the owner thinks MINIs are really cool cars, we had our My MINI has the Munchies dinner there on June 11th. As member Barney says, "Such a great turn out of M.A.D.M.E.N. tonight and I forgot to take any picture. I guess we had 15 for dinner even though we were miss some regulars. Food tasted great and plenty of it. We knew it would be slow from order to table, but everything thing is made fresh to order. Yum yum!" It was yummy and the plate presentations were just awesome.
On June 13th, we meet up with the DRP for a run up to Kitt Peak. The M.A.D.M.E.N. gathered at the Fry's parking lot to await the arrival of the Rat Pack.
Then it was a run out west on Ajo and up to Kitt Peak. Check out more photos on our DMC Facebook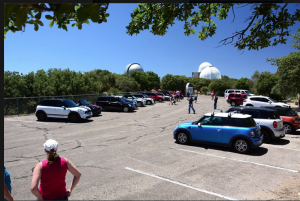 page many by DRP members Chris Calhoun and George Rocheleau. The DRP took advantage of the tours and stayed a bit longer to check out the telescopes and view the grounds.
Our last Saturday breakfast on June 27th was just north of Tucson at the Café at Sun City. Good portions, bright dining room and great service.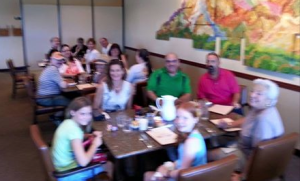 For more information on any event that the M.A.D.M.E.N. of Tucson have planned please email us.  madmenoftucson@gmail.com and check out the on line calendar. Happy motoring and don't forget to wave!