Last Saturday Breakfast and Drive
When:
2018-10-27T00:00:00-07:00
2018-10-28T00:00:00-07:00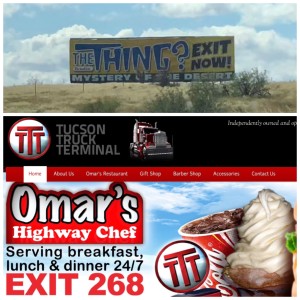 We will have breakfast at our usual time of 8:00 AM at the TTT truck stop at 5451 E Benson Hwy (Craycroft exit off I10, exit 268). Then we will be driving to visit THE THING at Exit 322 off I10 or the Johnson Road exit, which is about a 48 minute drive. The perfect Halloween adventure!